Headway is one of the more popular themes for the WordPress blogging platform, which may be due in large part to its innate user friendliness and ease of customization. Even those who are not CSS/PHP wizards can customized Headway to a great degree, though there are a lot of options for a novice blogger to cope with. Luckily, not all of those options need to be tackled during installation, but it is worth noting that a blog may not be as productive as possible and earning as much traffic as it should unless one does their homework before hand. This is not necessarily a fault inherent in Headway, but there are themes that do a better job of describing certain fields and how they work.
Download the Latest Copy of Headway »
Video Review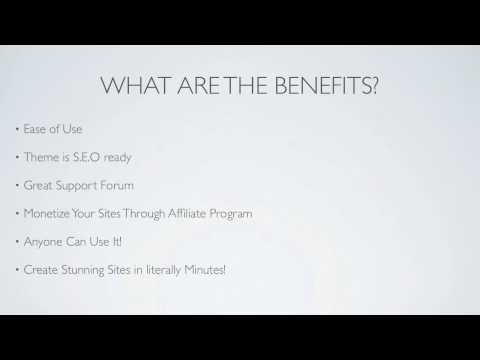 That being said, Headway is very easy to use and relatively simple to install for those that know what they're doing. If installing a theme sounds a little intimidating, and it may to some, then here is a helpful cheat sheet that has everything you will need install Headway.
Your FTP account information (user name, password, host, and possibly port)
A copy of the Headway theme unzipped on a local or network drive
A few minutes depending one's broadband connection
WordPress login credentials for the site or sites to be updated
Keep It Together
Before installing any new theme, it is always a good idea to take a look at the current version of WordPress being used and ensure that it is compatible with the version of the theme being installed, and Headway is no exception. Incompatibilities are not as common as they used to be only a few years ago, but they still do happen from time to time. If the WordPress installation is a little outdated, then it might be time to upgrade WordPress and ensure that the updated works properly before installing any new themes.
If the WordPress installation is up to date, then it is time to log in to the web server with the FTP account information that should already be handy. The entire folder and its contents need to be uploaded to the /wp-content/themes folder. This process should not take very long, though it is worth pointing out that Headway has an unusually large number of files associated with it. Many smaller files tend to take longer to upload than fewer larger files with FTP, but the overall upload process should not take more than a few minutes. Once done, close the FTP software and log in to the WordPress Dashboard for that site.
Let It Begin
In a vanilla WordPress installation, there are a few menus arranged horizontally along the left side of the screen. One of the menus is known as Appearance, and clicking on the Appearance menu item will bring up all of the available and properly installed WordPress themes. If Headway is not already an option, it may be worth logging out and trying again or looking at the FTP steps outlined above. Something may have gone wrong, but it should be easy to correct.
Click on the activate link under the large Headway image and be patient. The entire process may take a second or two, and it should not be interrupted. Once the activation is complete, a notice should appear noting that a new theme has been activated. There are also a few other immediate changes that can be seen, specifically in the Appearance menus where a few Headway-centric items have been added.
Integration is Good
Having theme-specific items in existing menus is a nice touch because it reduces the learning curve dramatically. Everything is where one would expect it to be, and the new menu(s) that most bloggers will probably spend most of their time with initially are found under the Headway Configuration sub-menu. Each of these seemingly basic looking menus can be expanded into very lengthy, scroll-requiring lists of options and fields. This process might be a little bit easier for new bloggers to follow if a few changers were made: made a step-by-step guide for new installations to follow, and offer choices between basic and advanced menus.
These small qualms aside, the fact is that Headway looks brilliant, and is so customizable without touching PHP/CSS/HTML that it is amazing. Some bloggers have made truly amazing sites using Headway with little to no custom modification. Of course, the best looking sites do often require tweaking, and this is one area where Headway seems surprisingly well thought out. While the menus might be very intimidating to a novice, their logic works very well for veteran bloggers and coders. Nearly a fifth or so of the nearly 300 files found in a Headway installation can be tweaked with no more than basic CSS/HTML/PHP skills.
The Bottom Line
While installing a WordPress theme is not particularly difficult, it would have been nice to see Headway listed in the Theme finder that WordPress uses. There is absolutely nothing wrong with completely automated theme updates, and having to go the FTP route seems overly involved for novice bloggers. The days of using ancient FTP for basic tasks like this are nearing the end, especially for bloggers who have a lot to say and cannot be hindered by minor technical details. That being said, most hosts offer excellent support, and so it really should not take much more than a little time and patience to get this particular ball rolling.
Once installed, Headway looks and works very well right out of the proverbial box. Those who want to tweak the look and feel of their site will find this particular theme to be a modder's paradise, and reasonably well remarked. Novice bloggers with limited technical skill who are looking to tweak just a few things may be intimidated by the lengthy and often overly-detailed menus. Luckily, Headway does not often need much tweaking to do what it is designed to do: make blogs look better than they did with just basic WordPress settings.